Get Rs.2000 Worth Google Advertisement for FREE
by Chennaiwebs
Are you unable to beat your business competition and reach the peak? Do you want to try Google Advertisement, but you are unable to spend money for ads due to your low budget?
We are here to help you with your Google AdWords management at the lowest CPC!!
Burn your competition with customized AdWords campaign at the most affordable cost than ever!

Now, get Rs. 2000 Worth FREE Google Advertisement with Google AdWords!! Call us at 9884868777 for instant enquiry.
Benefits of Google Advertisement
Manage your account more easily with our marketing experts, who have years of expertise in managing AdWords campaign to increase your Return on Investment.
Why it is better than SEO?
In case of Search Engine Optimization (SEO), you will see results only after months of time being spent on organic search optimization, but with Google AdWords Advertisement, you can get immediate clients as you are targeting exact audience directly via Search Engine Marketing (SEM). So, for small businesses who need instant clients, SEM can be more effective in gaining instant results.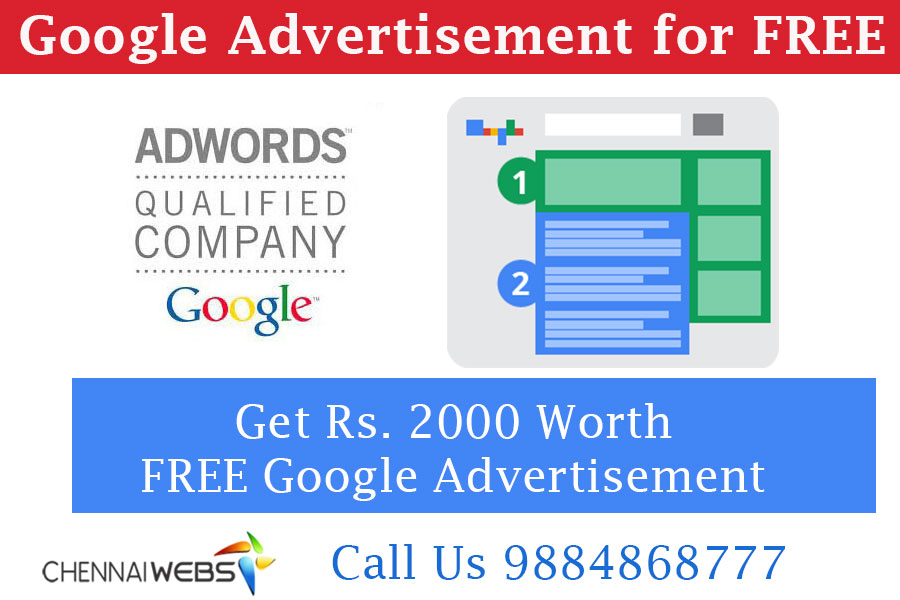 Why Google Advertisement?
Almost 80% of search market is based on Google Advertising and if you are not using Google AdWords, you are losing biggest opportunity of getting leads to your business.
When Google Advertising is being done with expert campaign management, it is sure to offer you with better results and cut down your costs for offline marketing.
Are you interested in taking up this opportunity to build your business and gain huge leads? Then, just send us your requirements to info@chennaiwebs.com or call us at  +91 988 4868 777
Start your Google Ads today with Rs. 2000 Free on your New Advertisement..!
Check this Video to know more Google Advertisement: